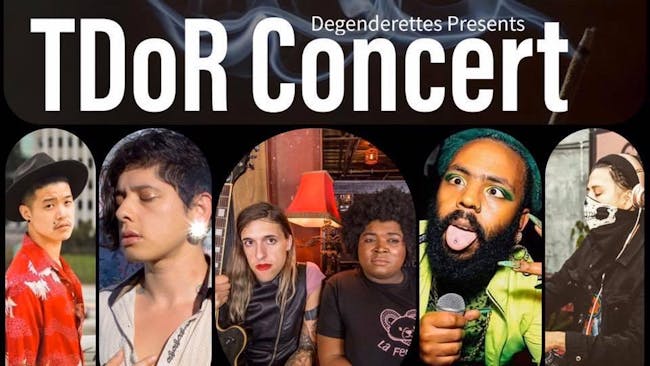 Trans Day of Remembrance
$5.00 - $20.00
Tickets At The Door
Just a little concert to support surviving trans musicians for Trans Day of Remembrance. More info at https://www.facebook.com/events/481639
LeahAnn "Lafemmebear" Mitchell has long been featured and praised in the music industry for her talents as a musician, music producer, and sound engineer, having worked with major label studios and more recently as an independent artist under the moniker "Lafemmebear."
***
El Primo Inocente
El Primo Inocente is a Mexican (Chicanx), transgender (agender) mixed media visual artist, multi instrumentalist musician, composer, music producer, poet, and performer who was born and raised in East Oakland. Inocente uses art and music on a daily basis as coping mechanisms to help manage mental illnesses, to document current events that get looked over, and to survive gentrification in the Bay Area.
***
Inopogu
Bandcamp / Soundcloud / Instagram
***
Dollii
Dollii Williams
***
Chico Chi (he/they) is a tender queer and transmasculine dj, creative, & fashionistx based in Oakland, CA. He is ⅓ of Hunnies & Hot Sauce, a dj crew that creates events and spaces that center queer and transgender people of color. Chi is also the co-founder of Tender Bois Club, a trans music & creative production house. Chico, which means boy in Spanish, is an ode to Chi's trans identity and Chinese-Cuban roots. This hyphenated identity influences Chi's eclectic song selection, curating multi-genre vibes that'll take you on a journey into nostalgia and beyond.
***
DREAMS
DREAMS aka Mar Mendoza is a chicanx Dj and producer based in Oakland, CA. DREAMS is a staple dj and event curator in the queer and trans community of Oakland. They play hip hop, club and vogue, reggaeton and Afro house. They are resident DJ of Passionfruit queer dance party.

860 San Pablo Av.

Albany, Ca. 954706

EAST BAY

21+

Venue Information:
Ivy Room
860 San Pablo Av.
Albany, CA, 94706