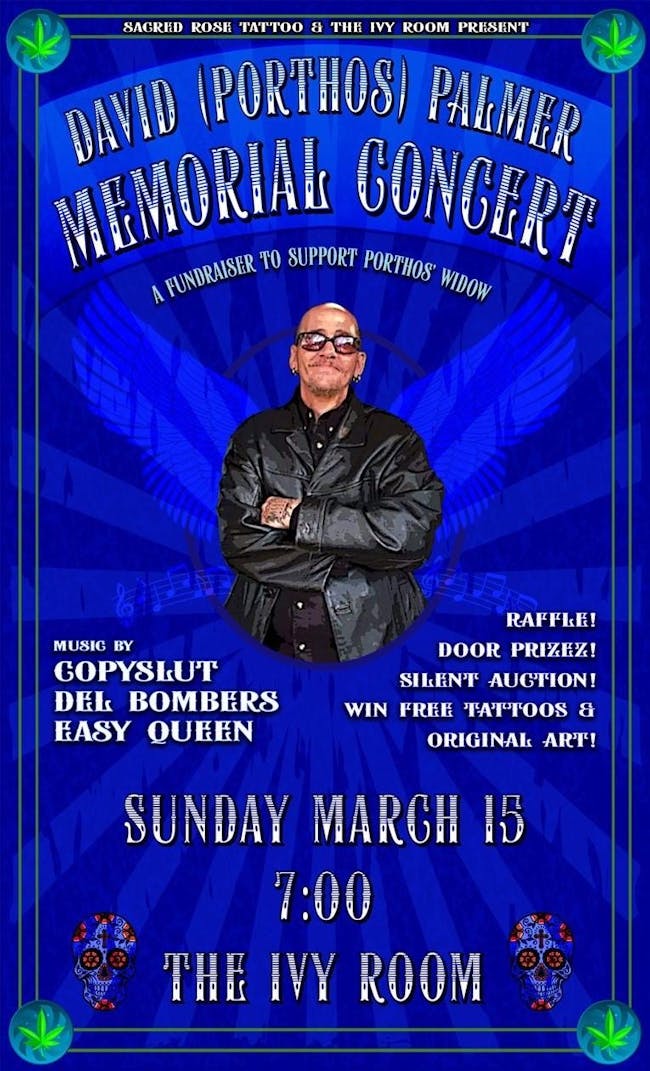 SACRED ROSE TATTOO PRESENTS
THE DAVID (PORTHOS) PALMER MEMORIAL CONCERT & FUNDRAISER
Copyslut, Easy Queen, The Halford Wives
Sacred Rose Tattoo Presents
THE DAVID (PORTHOS) PALMER MEMORIAL CONCERT AND FUNDRAISER
FEATURING:
COPYSLUT
EASY QUEEN
THE HALFORD WIVES
DOOR PRIZES!
RAFFLE!
SILENT AUCTION!
WIN FREE TATTOOS AND ORIGINAL ART FROM THE ARTISTS AT SACRED ROSE,
BID ON A VACATION WEEK IN MEXICO IN THE SILENT AUCTION!
AND MUCH MUCH MORE
(Proceeds from this event are to support Porthos' widow Mary)
Doors @ 6
Music at 7
Sliding scale $10-$20 in advance (ticket link @ivyroom, ivyroom.com, ivyroom facebook)
Don't forget to bring money for the raffle and auction. All donations accepted and appreciated!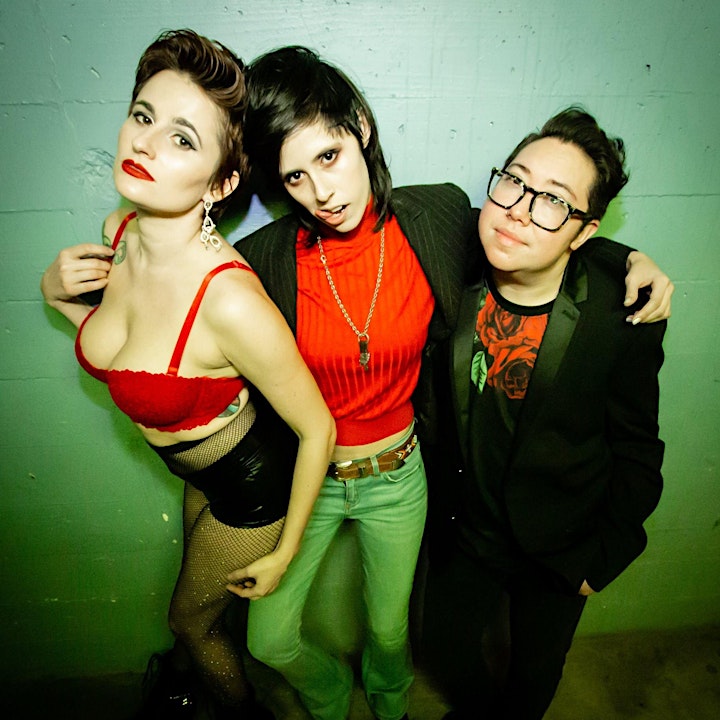 Copyslut
Website / Facebook / Instagram
​This Oakland-based edgewalking threesome makes music filled with sex-magic, catharsis, and healing vibes. They bring their fans into a rich experience, letting go of shame and re-sensitizing their bodies through earnest storytelling and groovy hooks. It's the full spectrum of entertainment: musical theater meets stripper meets rock & roll. It's both playfully campy and intensely authentic.
Copyslut fuels an ongoing conversation about sex worker rights and oppression with the zine Don't Hate My Heels: A Confrontation With Whorephobia In Which The Whores Win. The zine is a collaboration between Copyslut's lead singer, Chatz, and other sex workers both named and anonymous. Don't Hate My Heels was shortlisted for the 2018 Broken Pencil Zine Awards and the named contributors will be featured on the cover of the June 2019 Issue of Canada-based Broken Pencil Magazine with a full editorial spread and interview.
Founded by Chatz on vocals and Ray on guitar, the band was soon joined by Eli Maliwan (bass). Copyslut was born on a cold summer day in 2017 during San Francisco's Pride weekend in a blaze of glitter, filled with all the sass of Freddie Mercury. What started as a love project between three close friends (Chatz, Ray, and Kendal) sparked what is now a driven musical project grounded in healing through pleasure.
COPY: Nothing in music is written apriori. We are all influenced by the music we were exposed to, drawn to, and then stumbled upon. We celebrate how music invokes and honors the past with the nostalgia from our youth. We aim to heal through feeling good, right now. We always walk the line and push the edges of what is possible for the future. SLUT: Our bodies are beautiful. Pleasure in our bodies creates environments for connection and healing. We are all about letting go of shame - what a waste of space. We do not take ourselves too seriously - we are playful and sensual. COPYSLUT: It's fun to twin with people you like. Matching prom dresses anyone?​​
​Chatz reaches and pulls you in. The fire in her eyes is marvelous to witness, and she has a way of making you feel like you are the only one in the room. She has the dynamic and sultry intensity of a stripper off broadway. Love is infinite for Chatz. It spills out of her so everyone can fill their cups and splash around with each other. Chatz puts a saddle on everything yummy and rides it like a spaceship with no rear view mirrors.
Ray Zamora (Cuervo) As soon as their amp is fired up and their guitar is held in their hands, you know you are about to get turned on and turned up. They allow you to witness them totally exposed. This crow-babe works their brujx magic with beautiful precise hands, showing you the most vulnerable parts of their genderbendy-soul. It's amazing to watch them swarm around the stage as the memorable riffs and licks moves them and leaves all transfixed.
Eli Maliwan This dapper daddy's jazz influenced harmonies move us to groove and ground us in the present. As a jazz-trained saxophonist by day, he channels his unique voice through his trusty blue bass, Mystique. His cool-as-a-cucumber demeanor as well as his sparkly playfulness creates song that vibrates deep in your hips, bringing you sensational pleasure and joy.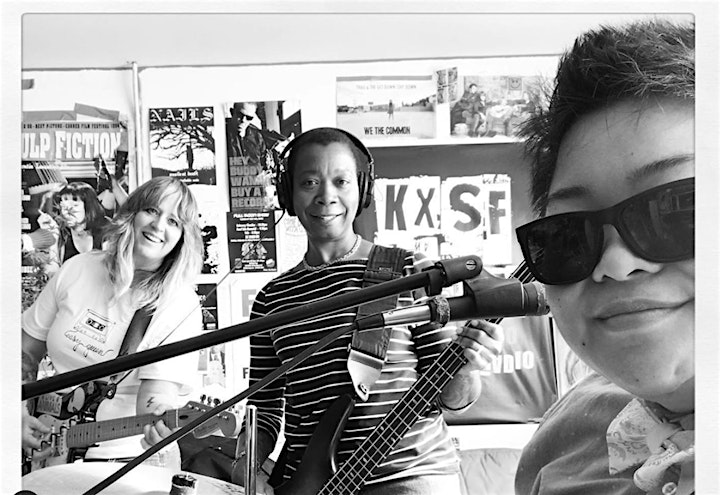 Easy Queen
Easy Queen is three fierce, feminist, funny females forging fabulously funky rock. For real. Featuring lead vocalist/guitarist Audrey Howard, drummer/vocalist Genesis Fermin, and bassist/vocalist Veronica Savage. PJ Harvey, Juliana Hatfield, and The Yeah Yeah Yeahs all find their way into this hook-laden mixture of crowd-pleasing sounds.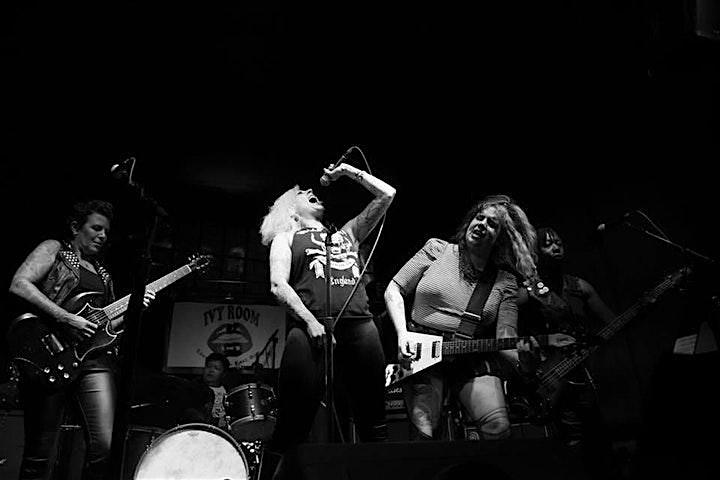 The Halford Wives
Halford Wives don't give a fuck if you think we suck!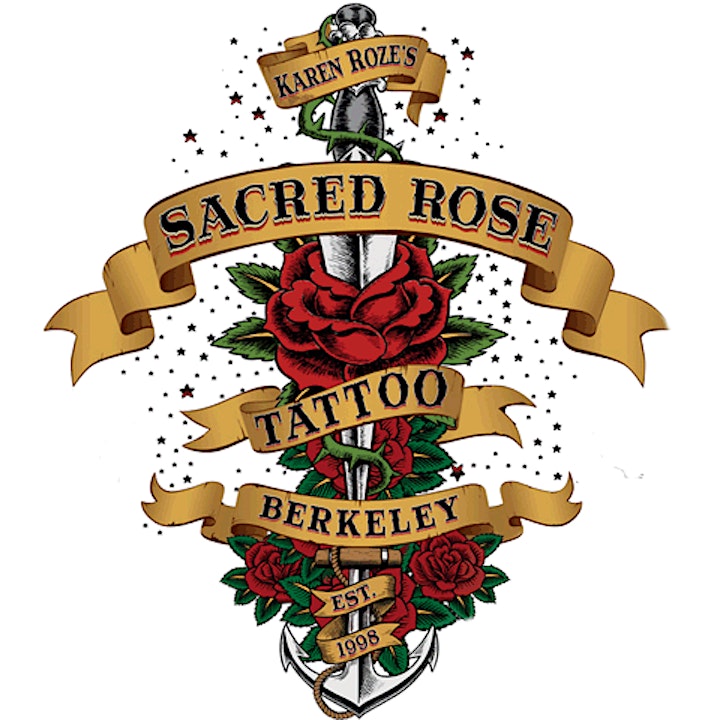 Sacred Rose Tattoo
Website / Facebook / Instagram

Karen Roze's Sacred Rose Tattoo is one of first woman owned and operated tattoo shops in the Bay Area and has remained a Bay Area favorite for over 20 years. In 1992, with her degree in fine art from CCAC, Karen began an apprenticeship at San Francisco's legendary Picture Machine. After 6 years of hard work learning the business, Karen opened Sacred Rose Tattoo in San Francisco. Eventually the business would outgrow our original San Francisco storefront, and we moved to Berkeley in 2006. On October 1, 2018, we relocated to an even bigger space at 1960 San Pablo Avenue at the intersection of University Avenue.

Throughout the past 20+ years Sacred Rose Tattoo has succeeded in providing beautiful, custom, quality tattoos to clients from all over the world. Our shop provides a friendly comfortable environment with excellent customer service. We have award winning artists with professional art degrees and a dedication to tattooing as an art form. Our new San Pablo Avenue studio features six large work stations, a private station, and a large comfortable waiting area.

Venue Information:
Ivy Room
860 San Pablo Av.
Albany, CA, 94706