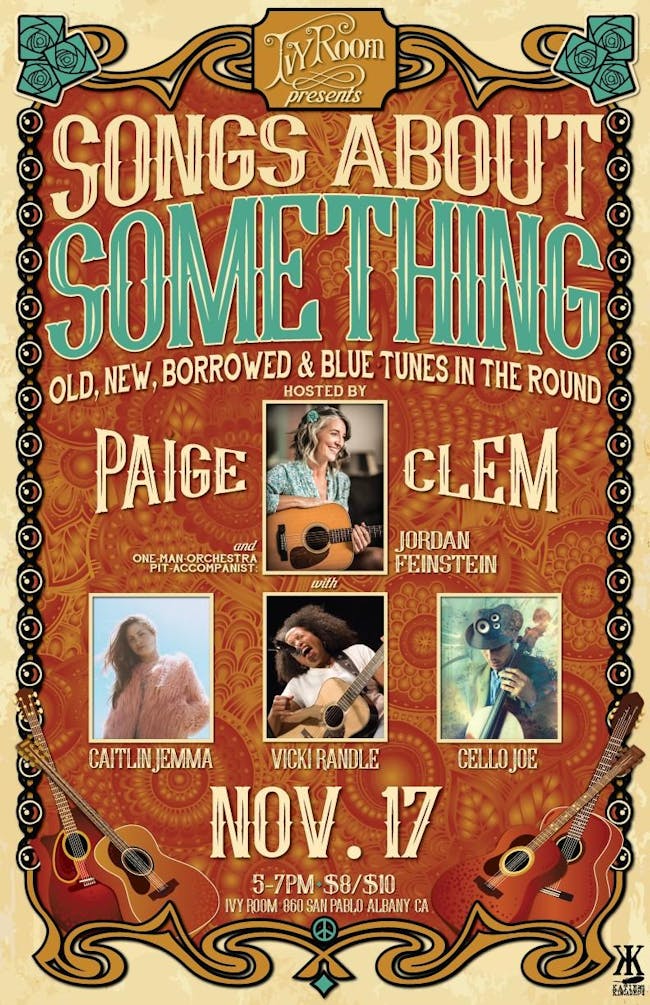 Paige Clem
Vicki Randle, Cello Joe, Caitlin Jemma, Jordan Feinstein
$8.00 - $10.00
Sales Ended
Songs About Something: Old, New, Borrowed & Blue Tunes in the Round with Paige Clem & Jordan Feinstein​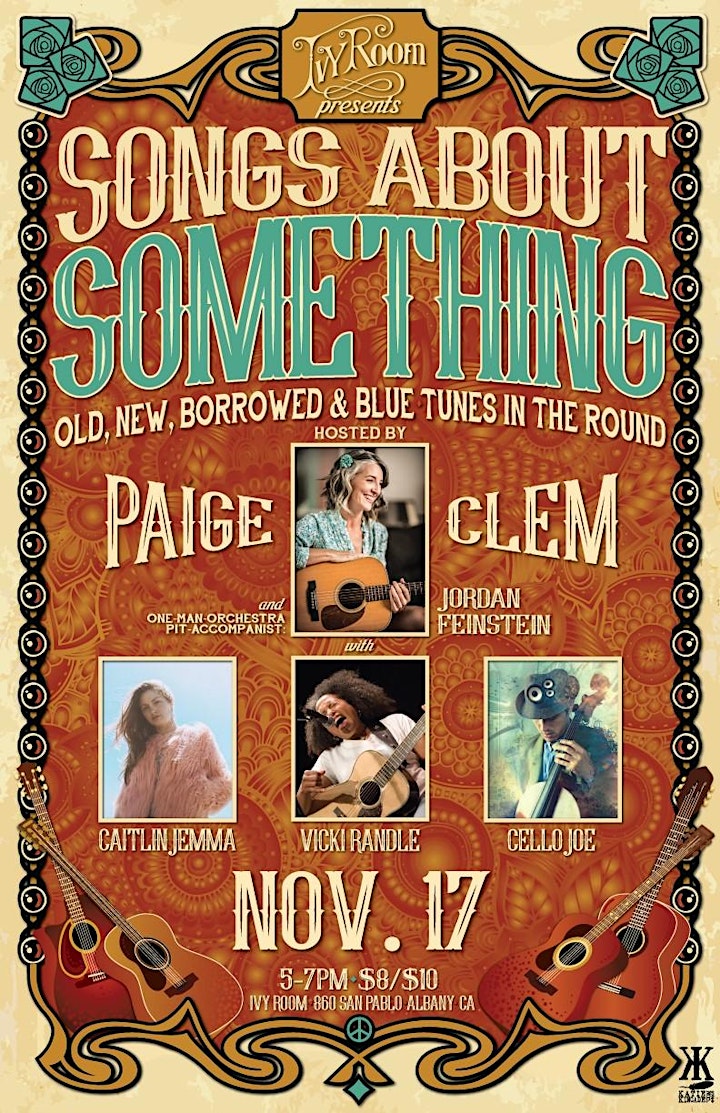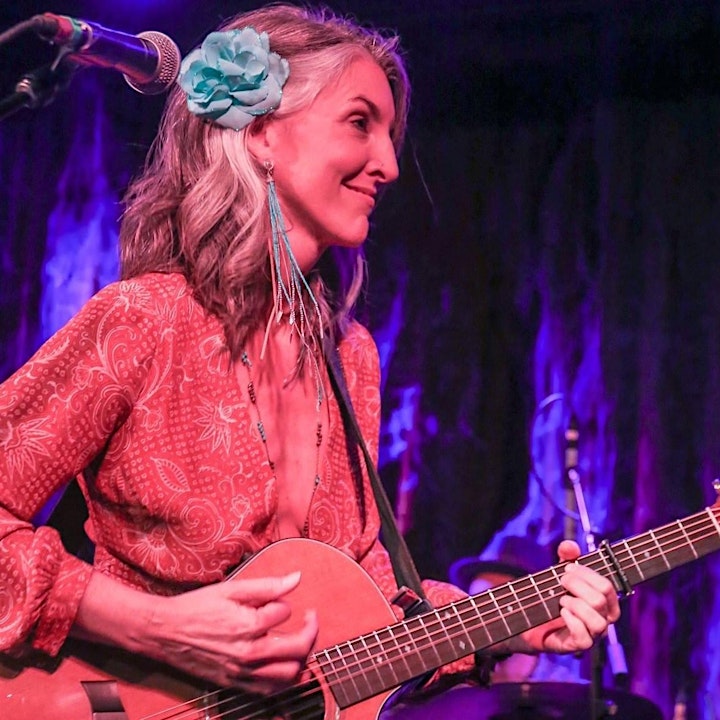 Paige Clem
Americana singer-songwriter, Paige Clem's arrestingly direct lyrics and velvety, unaffected vocals exude that most elusive of musical qualities — Soul. With a natural gift for connecting with an audience, her roots-infused music is melodic and warm, yet packs a punch with tales of loss and love. In addition to her original music, Paige frequently lends supporting vocals to various Bay Area acts and showcases and sings with the popular Grateful Dead tribute, The Eleven, Bob Dylan/Neil Young tribute, Shakey Zimmerman, the retro/soul tribute, Paige & The Rage. She has shared the stage with members of Dead and Co., Further, Railroad Earth, Leftover Salmon, ALO, Fruition, Anders Osborne, RatDog, Tea Leaf Green, New Monsoon, Moon Alice, Tracorum, Front Country, Midnight North, and Dead Winter Carpenters, and has performed with Melissa Etheridge, moe., Joe Craven, Steve Poltz, Eric McFadden, Scott Pemberton, The Brother's Comatose, Shook Twins, and many more. She has served multiple stints as songwriter-in-residence at The Bazaar Café, hosts the monthly series "Songs About Something" at The Ivy Room in Albany, and has appeared at High Sierra Music Festival, DelFest, Hangtown Halloween Ball, Cuko Rakko Music Festival, and ULUV Music Day. She will be featured in the upcoming documentary, The Creative High, and is currently recording her debut solo album slated to be released in the fall of 2016.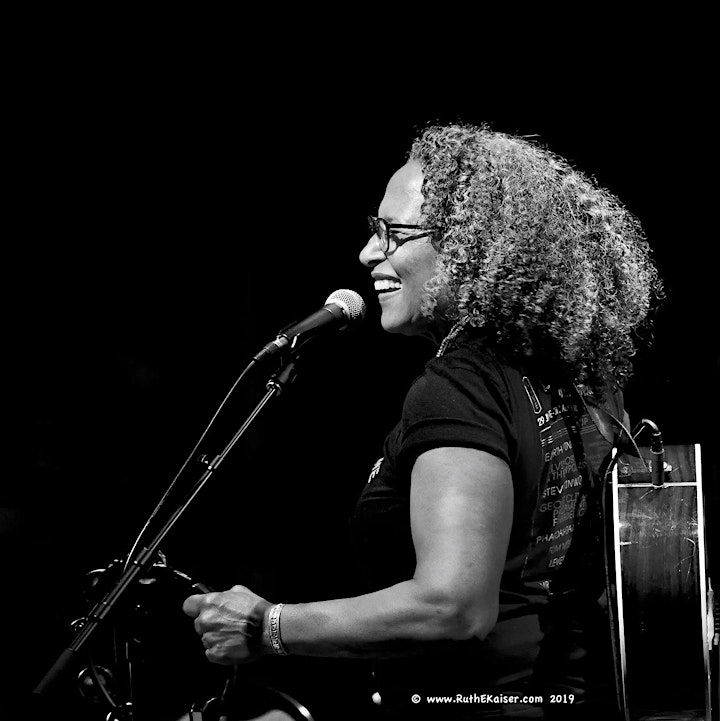 Vicki Randle
Vicki Randle,a native San Franciscan was born into a musical family, her father a jazz pianist and her brother, Tom Randle an opera singer. In fact her mother's baby shower took place at the Oakland club that her father was accompanying Billie Holiday in.
When she was 9, she found a discarded Silvertone guitar and taught herself to play Beatles songs, singing all the harmonies and other musical instrument parts. Becoming a multi-faceted, multi-talented multi-genre singer guitarist, bass player, drummer followed and the result is a 40 year long career playing with the biggest names in music.
Lead singer and percussionist with The Tonight Show Band with Jay Leno led first by Branford Marsalis, then Kevin Eubanks for 18 years, where she performed with numerous guest acts, including Sirs Elton John, and Paul McCartney, Al Green, Patty LaBelle, Garth Brooks and James Taylor.
Vicki has toured with Kenny Loggins, Lionel Richie, George Benson, Wayne Shorter, Dr. John, Jeffery Osborne, Laura Nyro, Mickey Hart, Sheila E and Mavis Staples; recorded lead vocals and/or duets with Herbie Hancock, George Benson, Turtle Island String Quartet, and provided background vocals, guitar and percussion with performers as diverse as Aretha Franklin (on platinum "Who's Zoomin' Who), Pete Escovido (Grammy Nominated "Mr E") Pharaoh Sanders, Taj Mahal, Todd Rundgren, The Mother Hips and appeared in HBO's "Mavis!" as well as recorded 2 records with the legendary Ms Staples.
She has countless ads to her credit, soundtracks for dozens of films, performed on almost every continent, from Albert Hall to the White House.
She has an Oakland based rock and soul band "Skip the Needle," who just dropped their "We Ain't Never Going Back" battle cry for the Little Village label as well as contributing a tune for a multi-band concept album and concert of A Tribe Called Quest's "Midnight Marauder" with ATCQ producer Michael Starita.
She also performs solo with acoustic guitar, folk/rock/soul and jazz influenced original compositions from her CD "Sleep City."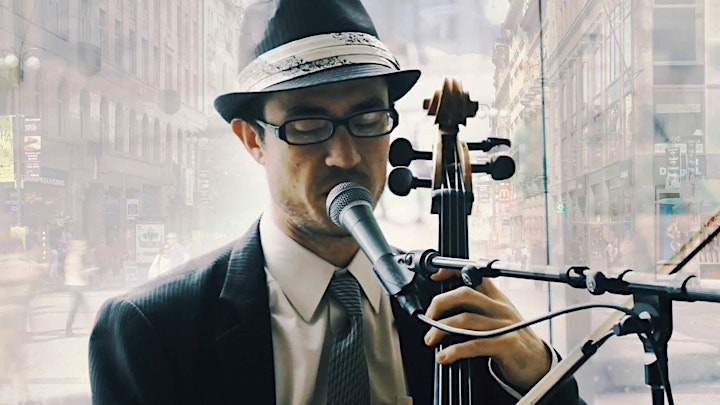 CelloJoe is an anomaly in the world of cellists.
By combining cello with beatboxing, he has created a unique genre: classical hip hop.
Looped and layered beatboxing beats (vocal percussion) and funky cello form a rich soundscape for intelligent lyrics; CelloJoe spreads joy, laughter and consciousness raising vibrations.
CelloJoe's eclectic sound also incorporates the style of old time, jug band, blues and kids's music.
CelloJoe is the world's first long distance musical bike touring cellist. In 2007-2008, he rode with the pleasant revolution, a 5,000 mile bike tour from north san juan, california to palenque, chiapas, mexico. In 2009, he did a 500 mile bike tour through Utah with SHAKE YOUR PEACE!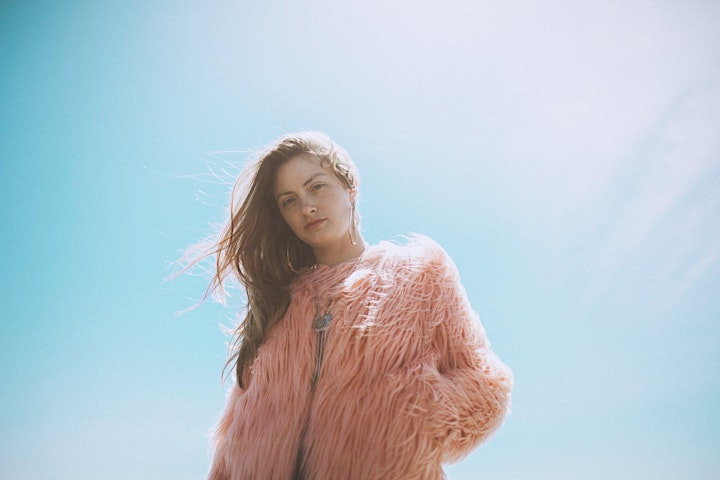 Facebook / Instagram / Bandcamp
Caitlin Jemma is a singer-songwriter on the rise. Marked by country and delivered with soul, her songs are love notes offering encouragement to be your baddest self—in the pursuit of magic, adventure, and discovery.
Jemma's genre-defying 4th studio album, Love Notes, is as bold as it is beautiful. Recorded and produced by Bart Budwig at the OK Theatre in Enterprise, Oregon, Love Notes sees Jemma stepping out into a brave new electric frontier, while retaining the intimacy of her first three albums.
​Raised in the high desert of Northern Nevada, Caitlin Jemma is a small town girl with a big country heart. Whether performing solo or with her band, The Goodness, Jemma attracts listeners into an intimate atmosphere where her sultry storytelling lives.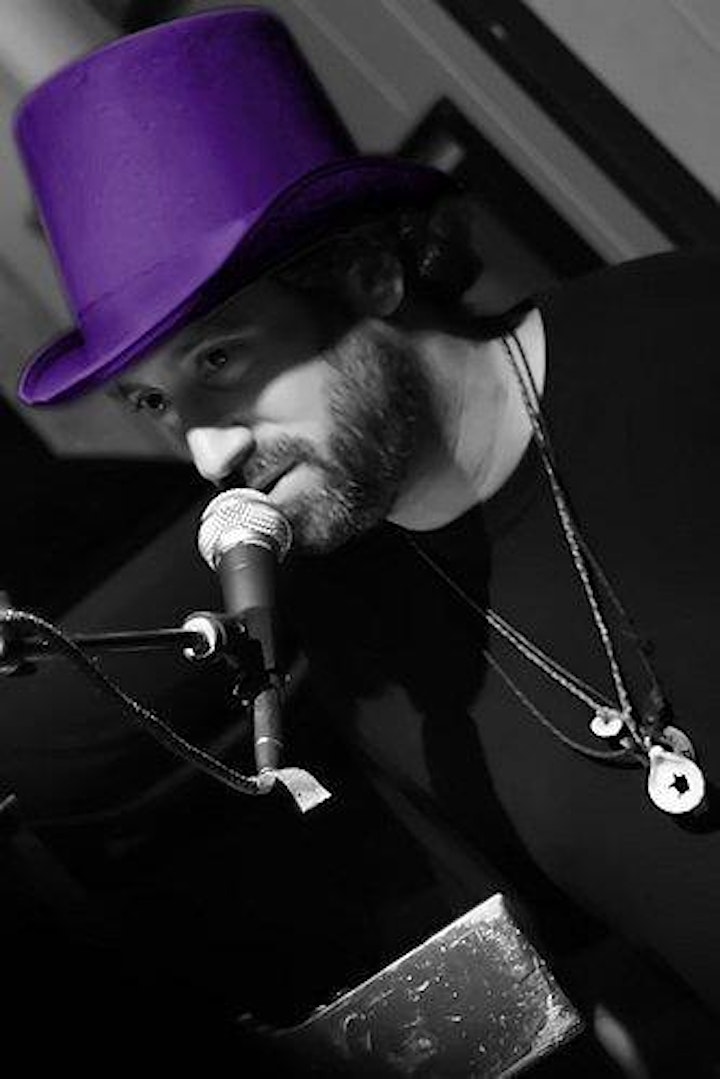 Jordan Feinstein​
Jordan is one of SF's go-to Keyboard player - he's a regular in 30 or so bands as well as leading his own: Jordan and the RituaL.

He has played with such heavy weights as Phil Lesh, George Porter, and G Love and Special Sauce.

He regularly plays with Stu Allen And Mars Hotel, La Gente, Paige and the Clementines, American Nomad, and too many others to list.

Jordan runs a project studio in sf - Studio 352 - where he produces/arranges and engineers bay area artists.

He is also the "Paul Shaffer"/one man backing band for Songs About Something.

860 San Pablo Av

Albany, Ca. 94706

East Bay

21+

Venue Information:
Ivy Room
860 San Pablo Av.
Albany, CA, 94706