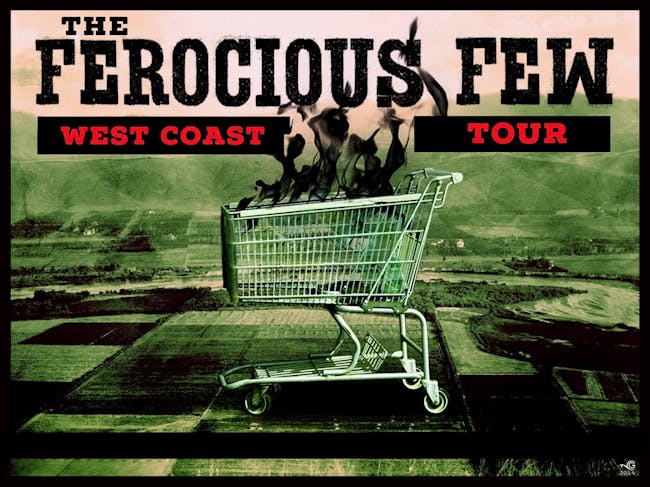 Novio Electrico
The Ferocious Few
Fake Your Own Death
Ivy Room Presents Novio Electrico, Fake Your Own Death, The Ferocious Few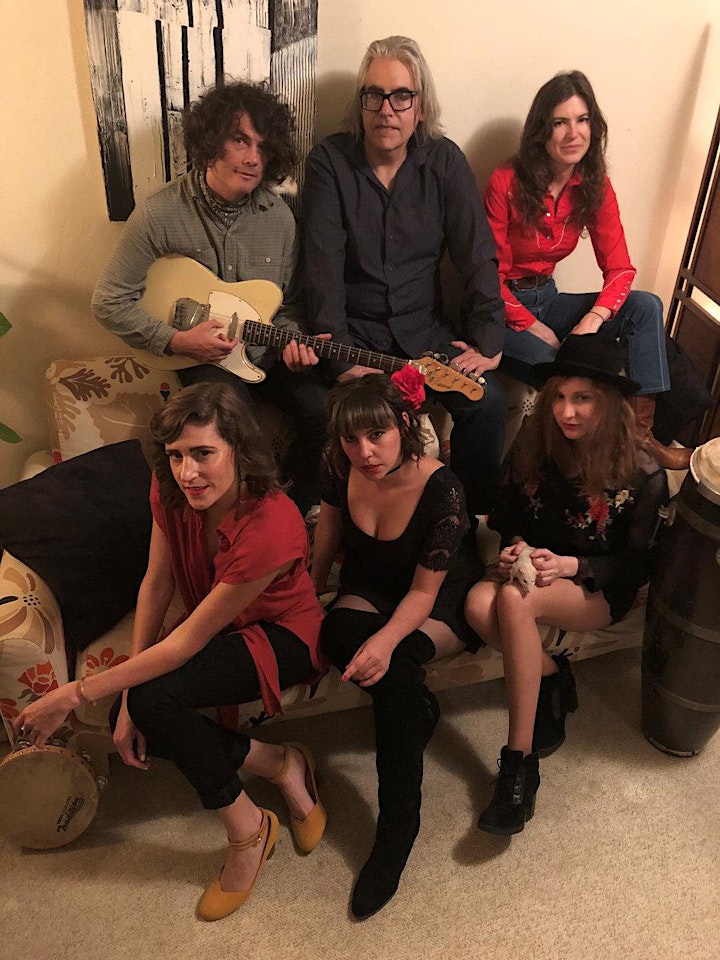 Novio Electrico
Novio Electico is a collaboration between producers Charles Gonzalez and Rex Shelverton. With Gonzalez driving vocals, bass, and synthesizers, and Shelverton beguiling on swirling guitar, their expansive sound is well -joined by Rachel Hoiem, who plays electric piano and sings harmonies throughout the album. Also in the mix are Latin percussionist Homer Rios, Scott Cullum, Charlie Vela, and singer Martine Donovan, who is dreamy on "Caramello".
This music contains multitudes. The band's sound bridges borderlands to unite Tex-Mex Rock & Roll and California Psychadelic/Surf traditions. Their partnership achieves something musically that is such a welcome sonic reprieve from the pollical noise and division that so misses the point about the generative nature of cultural cross-pollination. Though folk elements weave through some songs, they steer clear of preaching or propaganda. They let the music stand for itself, as it can and does as fine examples of openness, freedom, and possibility.
The diversity of offerings is impressive. The synthy melodic static of "Electrico" gets under the skin with the spell of an incantation. Then there's the cheeky sidewalk groove of "Hop It Scrape It", featuring a bantering duet between Camila Magrane and Wally Gonzalez. Wally also sings with Charles on "Kicker Tonight", a habit-forming two-step south Texas regional classic that Wally wrote in the '70s. Punk meets lounge lizard in an ironic romp covering a relatively-obscure Tubular Face number from 1984, "Macho Muchacho". Other tracks like "Novio", "Matamoros", and "Playa" are infectiously fun – they make me want to dive into waves, fall back in love, or tear up the dance floor, not necessarily in that order.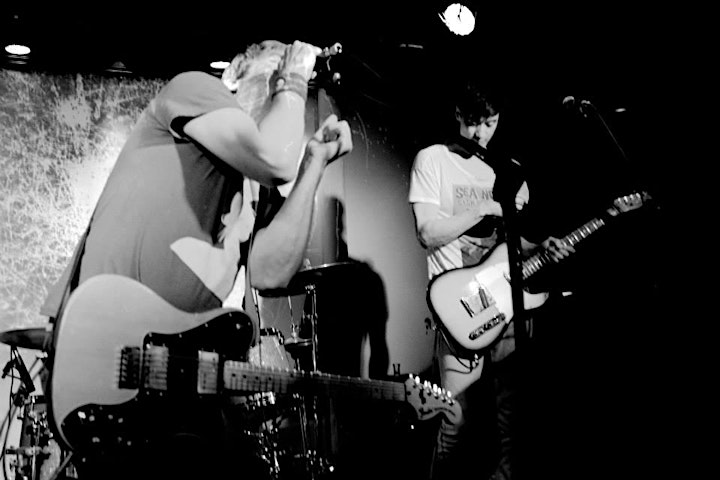 Fake Your Own Death
Facebook/ Bandcamp
You don't have to actually die to start over, but you might have to pretend to.
Fake Your Own Death was born out of small apartment above a bar in Berlin where Terry Ashkinos (formerly of indie band Elephone) was studying the fall of communism for the American government.
"Fake Your Own Death songs are small stories about misfits and the collapse of meaning,…then there's layers of reverb and infectious beats to create an alluring patchwork of uneasiness and romantic nostalgia. "
FYOD has been compared to bands like Echo and the Bunnymen, Love and Rockets, Elvis Costello, Sonic Youth, The National and Jesus and Mary Chain by both local and national press.
Two of the band members in FYOD are English teachers, one is a steak salesman and shoe model and another one is 7 foot tall river witch.
FYOD has played with bands like The Warlocks, Blood Red Shoes, You Say Party We Say Die, Film School, !!!, White Denim, Bob Mould, Trail of the Dead, Dungen and Gang of Four.
Fake Your Own Death is Scott Eberhardt, Terry Ashkinos, Izzy Chavarin and Jimmy Chen.
Fake Your Own Death's debut album is called Invisible and Bulletproof (Monolathe Recordings 2013) followed by a record called El Terrible (Breakup Records 2015). Their newest record, The Wake, came out August 2017.
"Fake Your Own Death songs are a combination of loathing and reverb. Tight beats and sharp guitars compliment a bass-heavy vibe that is post-punk at its finest. Today sees the release of the new EP shortestpoemhatestolose, a vibrant and dynamic post-punk/darkwave offering with touches of goth, noise rock, and indie rock thrown into the mix." (Rebel Noise)
"First up was Fake Your Own Death. What surprised me about them, then, is how good they are. Their songs are really good, like if Interpol decided to play faster and have some hard rock riffs. The vocals had a tinge of early Elvis Costello." (Spinning Platters)
" I couldn't have been more impressed with Fake Your Own Death. The music is a mix of Joy Division, Love and Rockets and The National with brief moments of Interpol thrown in. They debuted songs from their forthcoming album to a sizable crowd which was really great to see...I haven't been this excited about a local group in quite some time. Get to know them." (Front Porch Musings)
"Terry Ashkinos, a veteran of the SF indie rock scene, keeps the dark wave dream alive with the deep and expansive track 'Close,' from Fake Your Own Death's new album 'The Wake'." (Boing Boing)
"While the band's sound sports a melodic-morose shimmer and fade vibe reminiscent of Interpol. Ashkinos' gradually deepening voice takes cues from not only Paul Banks but from Hold Steady's Craig Finn and Robert Smith." (SF Weekly)
Other press:
"Fake Your Own Death played Friday night and I couldn't have been more impressed. The music is a mix of Joy Division, Love and Rockets and The National with brief moments of Interpol thrown in. They debuted songs from their forthcoming album to a sizable crowd Friday, which was really great to see...My favorite track by FYOD sounds like it would fit really well on "Alligator" by The National. "Few Plus One" is a simple track, but one that packs a serious punch. And with lyrics like "Burning airplane/ which way to crash/ no message, no map/ you take the keys man, I'll hide the stash...", you can see quickly the comparison to The National, at least lyrically, is pretty spot on. Another sweet track is the rocker "Mouth to Speak" which features the line "Your face, my fist...I haven't been this excited about a local group in quite some time. Get to know them." (Spinning Platters)
"If you've ever been curious how local indie rock four-piece Fake Your Own Death got its name, visit its Facebook page and hear "Mouth to Speak." During the song's big chorus, guitarist and vocalist Terry Ashkinos issues a pensive yet grandiose statement that's characteristic of his lyrical style: "Open my mouth to speak/But it's old technology/Fake your own death/Watch it on TV." While the band's sound sports a melodic-morose shimmer-and-fade vibe reminiscent of Interpol, Ashkinos' gradually deepening voice takes cues from not only Paul Banks but the Hold Steady's Craig Finn and (to a lesser extent) Robert Smith. Though the guys aren't musical neophytes (Ashkinos notably served in the long-running Elephone), this project is only a year or two old. With time, Fake Your Own Death may eventually become as cool as its moniker." (SF Weekly)
"First up was Fake Your Own Death. Their songs are really good, like if Interpol decided to play faster and have some hard rock riffs. The vocals had a tinge of early Elvis Costello, and they play around with song structure a lot as well." (SF Bay Guardian)
The Ferocious Few
Website / Facebook / Instagram / Bandcamp

The Ferocious Few are Francisco Fernandez (guitar, Vocals, keys) and Daniel Aguilar (Drums, Percussion,Bass) Currently, Francisco is in Berlin, Germany and Daniel is based out of San Diego, California.

Their Latest album, Heart of Leather, is a mixture songs they have recorded together sometimes from across the Globe.

Venue Information:
Ivy Room
860 San Pablo Av.
Albany, CA, 94706