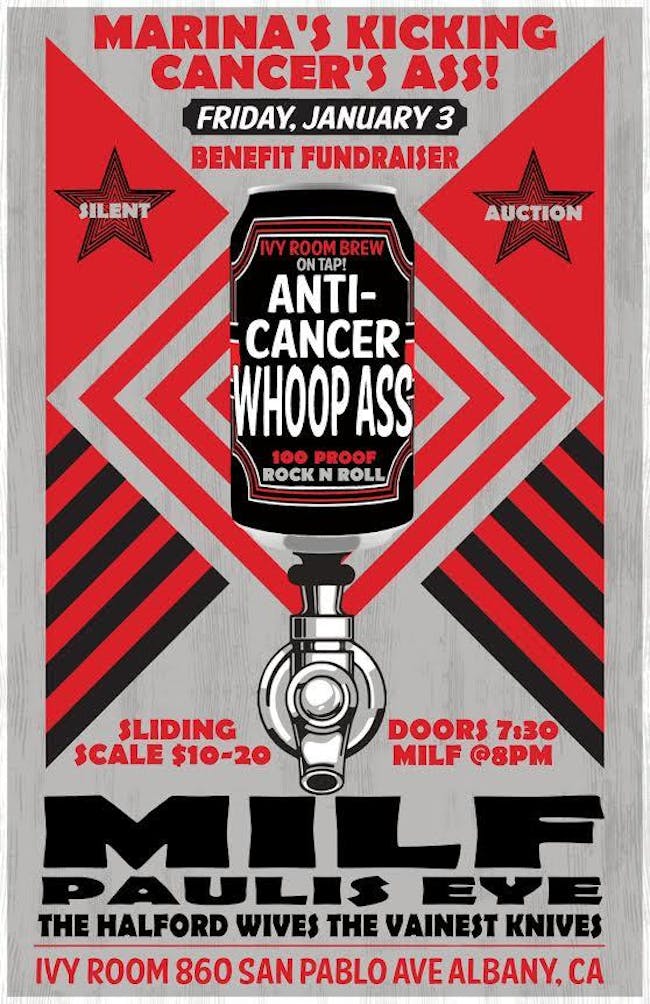 MILF
The Vainest Knives, The Halford Wives, Paulis Eye
$10.00 - $20.00
Tickets At The Door
Marina's Kicking Cancer's Ass Benefit and Fundraiser with Milf, Halford Wives, The Vainest Knives, Paulis Eye ~ plus a Silent Auction
We've got a favor to ask ya! Y'all know what amazing sound our venue has right? Well that reputation has a great deal to do with one of our main sound dudes Brian. He is an intricate part of our sound engineer team at the Ivy and he and his family are going through a tough time. Brian's wife Marina has been diagnosed with cancer and the community is getting together to put on the best fucking fundraiser possible. We have four killer bands lined up and some badass stuff like tattoos, concert tickets, hair salon certificate, booze, records, and more to auction off!
Our club absolutely adores Marina and we hope you'll come join us for this super important fundraiser.
Thanks for your support guys! See ya at the show.
MILF
Tattoo artist, Karen Roze (lead guitar) and Montessori Teacher, Trina Rymland (lead vocals) are neighbors whose kids attended the same school. They were reminiscing about their glory days of being young and hot and playing music, when they decided to stop talking and start rocking - AGAIN!
They added Kim Taylor on keyboards (another school "mom") and eventually snagged Christa Hillhouse (formerly of 4 Non Blondes) on bass, bringing MILF to a new musical level. Our most recent addition is the drumming sensation Genesis Fermin! Now, MILF plays the songs you loved when YOU were young and hot!
Based in Berkeley, California, MILF has played shows all over the bay area. Don't miss the next MILF show - it's always a treat!
The Halford Wives
The Halford Wives: five queer metal music making women who put the rock in rock.
Paulis Eye
Bringing back the lush sounds of pure heart, energy and imagination from the colourful universe!
The Vainest Knives
RIYL: Suicide, The Cramps, Roy Orbison, Jesus and Mary Chain, Billy Idol, The Ronettes, The Gun Club, Prince, and Link Wray.
Day of show line-up order:
MILF 8:00 pm

The Vainest Knives 9 pm

The Halford Wives 10 pm

Paulis Eye 11pm

Venue Information:
Ivy Room
860 San Pablo Av.
Albany, CA, 94706