Mr. Hat Presents & Karpie Diem Music at The Ivy Room
Aki Kumar
Laura Benitez & The Heartache
A night of Blues & Country at the Ivy Room with Sony Recording Artist Aki Kumar & his Bollywood Blues Band + Laura Benitez & The Heartache.
Mr. Hat and Karpie Diem Music are teaming up to present a new monthly Thursday Night Rockin' Blues Review at The Ivy Room! Each show will feature great live music at 8 pm PLUS a Grilled Cheese and Panini Pop-Up.
For the inaugural event, we are excited to present Sony Recording Artist Aki Kumar and his big Bollywood Blues Band! Aki Kumar, aka "The Only Bombay Blues Man," left his native home in Mumbai, India for the United States with the intention of working as a software engineer. Then he discovered the sounds of the blues at blues clubs in the SF Bay Area, and his life dramatically changed.
Having mastered the blues harmonica in a few years, this San Jose-based blues artist began integrating elements of Indian music into his musical and visual presentation, making for a multi-cultural mash-up that sounds like no one else, yet never loses touch with its blues foundation. Kumar is one of the hardest working musicians in the live music scene today. He has made multiple appearances at The Hardly Strictly Bluegrass festival, has been featured on PRI "The World," and has toured in Russia, Scandinavia and South America.
In August 2019, Kumar made major news with the announcement of a new record deal with Sony Music India and the world-wide launch of his debut single "Dilruba".
Laura Benitez and the Heartache use the three chord tools of country music to tell the simple, unvarnished truth about love, too much whiskey, and the call of the road. Their songs range from honky-tonk shuffles to fiery rock 'n' roll numbers to sweet old time waltzes, and cover everything from unwed motherhood ("Me or the Baby") to mean drunks ("Don't Wake the Devil"), with a whole lot of heartbreak in between. Their twangy honesty shines through in straightforward arrangements, crystalline harmonies, and spare instrumentation. Beware their catchy hooks and sweet melodies - these stray puppy tunes will follow you home and become your most steadfast companions.
Laura Benitez, songwriter, lead singer and founder of Laura Benitez and the Heartache, has been making her mark on stage and screen since the year 2000. After several years spent pursuing an acting career and appearing in soap operas and commercials in Los Angeles, she decided to focus on her music and moved to the San Francisco Bay area in 2004. Diving into the region's rich Americana and roots music scenes, she first started honing her country music chops when she joined the newly formed Cottonpickers with her then husband Mitch Polzak in 2005. Taking her musical cues from the heavily rock influenced Bakersfield sound, and her lyric inspiration from her favorite songwriters Dolly Parton and Loretta Lynn, Laura began writing songs in 2008. She released her first album, "For Duty or for Love" on her own Copperhead Records label in 2010. The album is available for purchase from the artist and can be downloaded at reverbnation.com/laurabenitez.
In 2012 she recruited the multi-talented singer, songwriter, and drummer Michele Kappel-Stone (Kirby Grips/Tippy Canoe) into the band, and was lucky enough to secure the talents of Bob Spector and Ted O'Connell (of The GoldDiggers) on twang guitar and bass. The newest honky-tonker is Ian Taylor Sutton on pedal steel.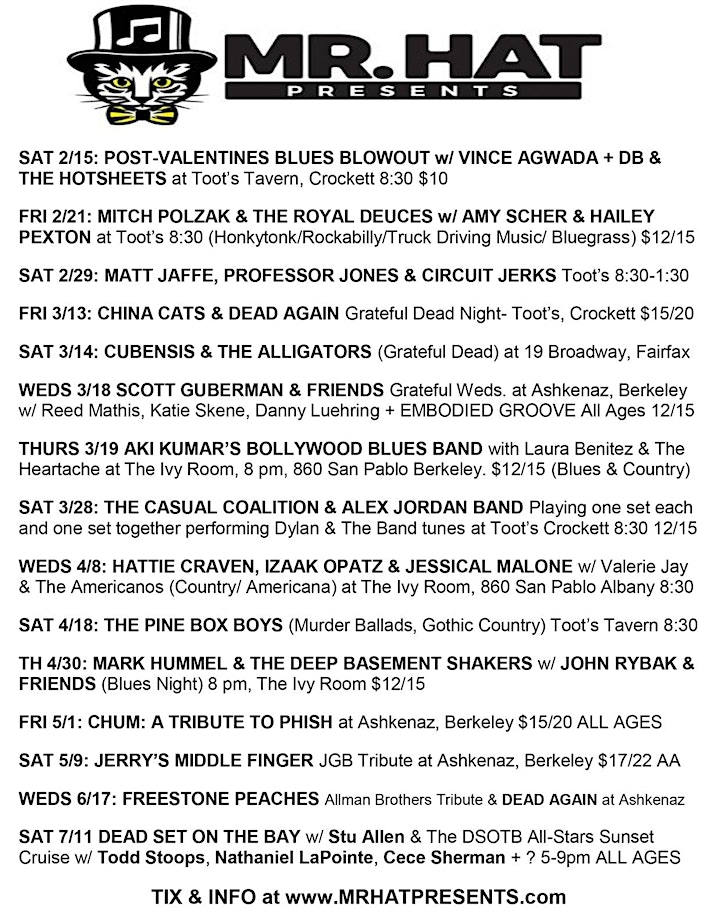 Venue Information:
Ivy Room
860 San Pablo Ave
Albany, CA, 94706