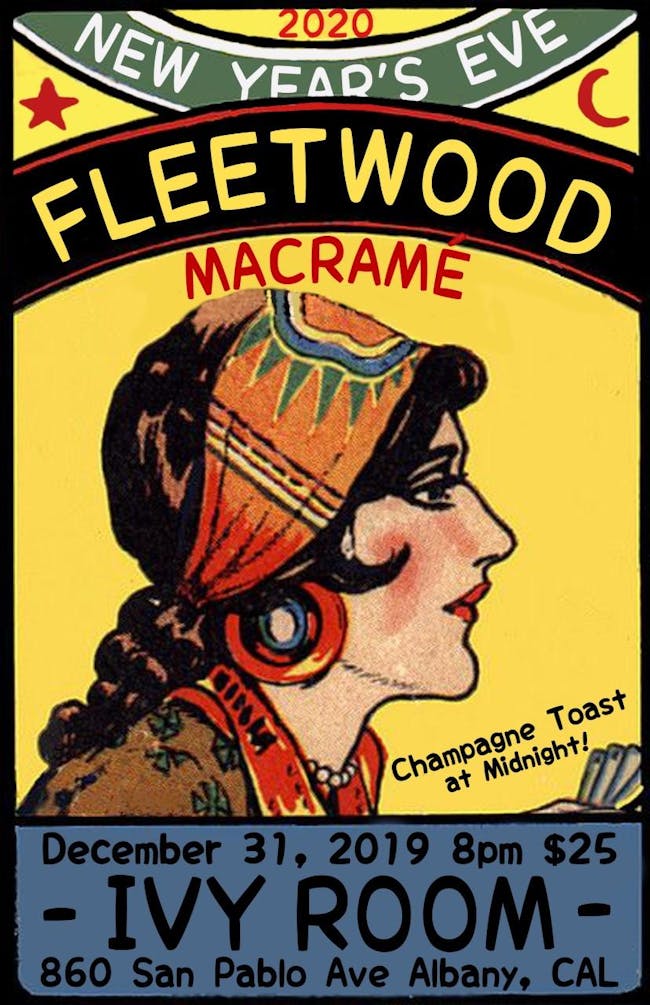 NEW YEARS EVE with FLEETWOOD MACRAMÉ at the IVY ROOM
$25.00
Tickets At The Door
Help us ring in the new year with Fleetwood Macramé!
This will mark the third year in a row of our best Fleetwood Mac songs played by our favorite Mac band!
NYE 2019 - Champagne toast at midnight, plus party favors and photo op. Dress in your finest Fleetwood Mac attire.
Post midnight set of Fleetwood Mac rarities.
Fleetwood Macramé is quickly becoming the Bay Area's most exciting tribute band. What began as a simple exercise in fun has turned into an awe inspiring live experience complete with show stopping renditions of Fleetwood Mac's greatest hits. Audience participation is encouraged, and Bay Area crowds are coming in droves to sing along with Fleetwood Macramé. What's more, they sound so much like Fleetwood Mac, if you closed your eyes, you would think it was the real thing. Only it's better, because you are in the front row!
Linda Moody
Linda Moody (aka Stevie Nicks), singer/guitarist of Fleetwood Macramé and Excuses For Skipping, also doubles as a neo-folk singer/songwriter under the name Sorceress Of The Sky in San Francisco, Ca. Her acoustic music has been likened to Joni Mitchell with vivid imagery, sweet falsetto vocals and dark guitar tunings. Her newest work, a full length album entitled "Angel Island Is On Fire" is set to be released this Spring with a tour to follow.
Find her music on Spotify or here: www.excusesforskipping.com
Jai Bird Carrell
Jai Bird Carrell (aka Mick Fleetwood) has been playing drums ever since she was a kid in Austin, Texas. After moving to San Francisco, she has played in many bands including The Patsychords (A Tribute To Patsy Cline).
Marcos Saenz
Marcos Saenz (aka Lindsey Buckingham) performs as guitarist and vocalist for Fleetwood Macramé, and also performs as a multi-instrumentalist for other groups throughout the Bay Area, including bassist for Talking Heads tribute band Burning Down The House. Marcos also works as a music teacher, recording engineer, and sound person all over the Bay Area. He studied music composition at UC Santa Barbara and live sound and recording at Mira Costa College in Oceanside, CA.
Some of his original music can be heard at polybius.bandcamp.com and marcossaenz.bandcamp.com
Tori Fulkerson- Jones
Tori Fulkerson-Jones (aka John McVie) plays bass for Fleetwood Macramé. She is also the bassist of San Francisco-based band, Excuses For Skipping. Before moving to San Francisco, Tori performed, recorded, and toured with groups from Washington, DC and Pittsburgh, PA. She studied music at Duquesne University in Pittsburgh.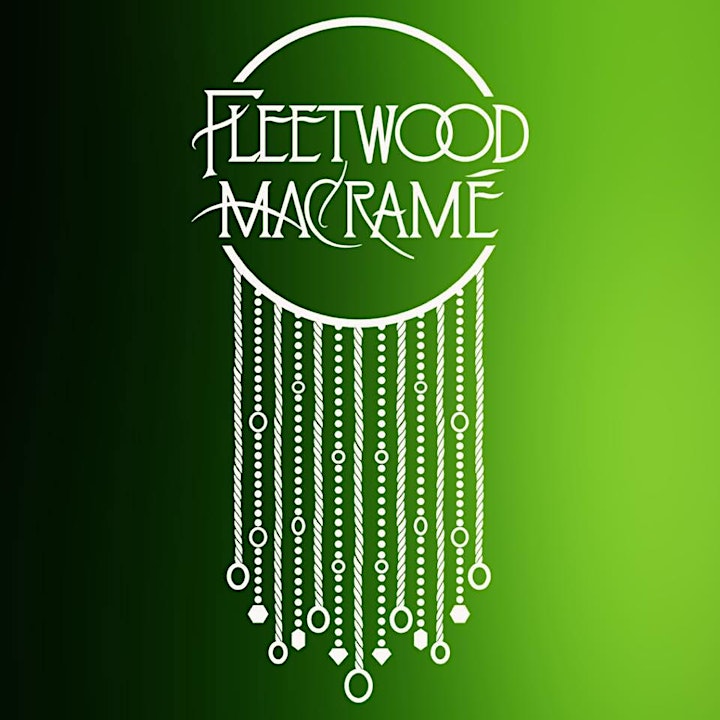 Ivy Room

860 San Pablo Av.

Albany, Ca, 94706

EAST BAY

21+

Venue Information:
Ivy Room
860 San Pablo Av.
Albany, CA, 94706