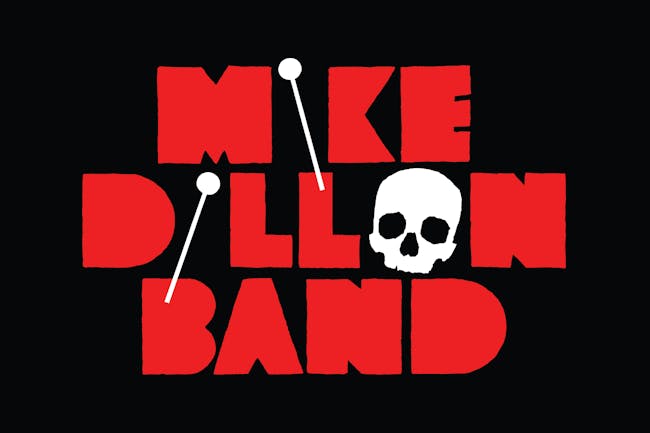 Mike Dillon Band Featuring Norwood Fisher(Fishbone)
Ivy Room Presents
Mike Dillon Band Featuring Norwood Fisher(Fishbone)
Milt Jackson and Frank Zappa stumble into a Trouble Funk show that The Dead Kennedy's opened.
Mike Dillon plays vibraphone and rants into the microphone. Combining styles and years of experience, MDB makes a noise that is unique in many ways. Dean Wean said, " The Mike Dillon Band is my favorite touring band on the planet' at the Ween after show where all of the band, sans Gene, joined the stage with Mike. The current lineup includes some of the planet's most creative musicians. To keep things interesting for the audience and Mike, MDB is now more of a collective than a set band. Every chair in the ensemble has two or three bad motherfuckers that know the music and will bring their approach to moving sound waves . The anchor of the Bass Department is Nathan Lambertson. A top call New Orleans musician, Nathan plays Upright, Synth and Electric with his heart of gold. Norwood Fisher of Fishbone and Brad Houser from Critters Buggin both do a couple of MDB tours a year. James Singleton has recorded and played New Orleans gigs on Upright. When Norwood and Brad are in the mix, the pocket has that the depth that only these two legends of the low end can deliver. As of late, Brooks Hubbert III has been playing guitar and singing. In New Orleans, Mike likes to get Tiff Lamson from Givers to play percussion and sing. Some nights the fourth member will be Otto Schrang ripping it up on mallets. The Drum Department is a revolving cast of characters. The list includes Brendan Bull,Brady Blade, Earl Harvin, G. Maxwell Zemanovic, Claude Coleman Jr., Paul Thibodeaux, John Speice IV, Go Go Ray, Doug Belote and Jean Paul Gaster(Clutch). Mike has even hired Johnny Vidacovich to be the Rhythm man from time to time. Stanton Moore, James Singleton and Doug Belote all appeared on the latest Mike Dillon release " Bonobo Bonobo".
How many artists have been praised a "punk rock provocateur," "jazz vibraphone visionary," and "percussion virtuoso" in the same sentence? There's only one: Mike Dillon. Whether through his affiliation with artists like Les Claypool, Primus, Rickie Lee Jones, and Ani Difranco, or collaborations such as Nolatet, Garage a Trois, The Dead Kenny G's, Critters Buggin or bands he has led, including Mike Dillon Band, Mike Dillon's New Orleans Punk Rock Percussion Consortium, Billy Goat and Hairy Apes BMX, the Texas-native has set his own standard for 25 years now. life-is-not-a-football-600x600Over the past decade, Mike Dillon has released a number of acclaimed albums, intertwining a range of influences from Zappa-esque eccentricity to Fishbone punk funk, D.C. Go-Go to Milt Jackson-influenced vibraphone majesty.
Norwood Fisher(Fishbone)
John Norwood Fisher (known as Norwood Fisher, born September 12, 1965) is the bass player for the funk/punk/rock/ska/metal/soul band Fishbone. Fisher has played bass in the band throughout its history, even as other members have come, gone, and returned. Fisher generally lends propulsive slap-funk playing to the band's tunes, while holding down the band's grooves throughout their myriad changes of musical direction. He is a founding member of funk band Trulio Disgracias. He is also known for his live and in studio ongoing works with artists such as Rodleen Getsic. Most recently he has been working on a solo project calling himself Woody Weedstraw, his material is inspired from his love for pot smoking. In addition, he is part of the supergroup Mr. Green All-Stars, consisting of ex-members of Bad Brains and the Dead Kennedys.

Fisher is known to style his hair into a single, well-endowed dread on top of his head that he calls his "sacred antenna" to communicate with people around the world, and for wearing robes (or sometimes only a bath towel or garbage bag) on stage.

Ivy Room

860 San Pablo Av.

Albany, Ca. 94706

EAST BAY

Venue Information:
Ivy Room
860 San Pablo Av.
Albany, CA, 94706