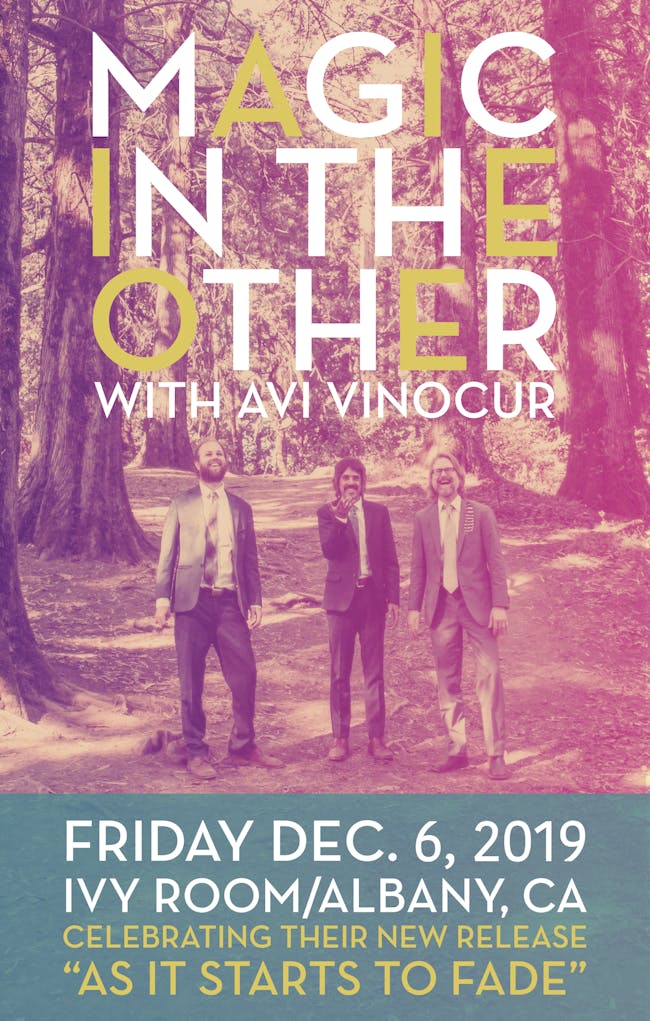 Magic In The Other EP RELEASE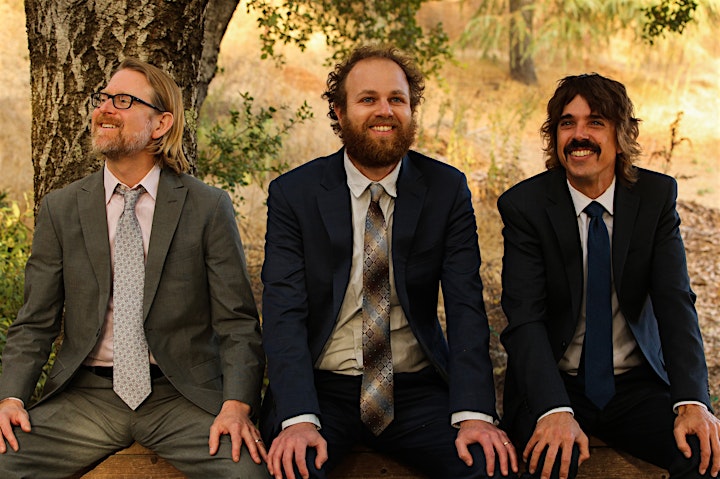 Magic In The Other creates anthemic and empathetic music that is utterly relatable and infectiously danceable. Since their inception in 2017, they've been a band driven by originality and have set out to make a mark in music. Led by drummer-lead singer Ezra Lipp (Phil Lesh & Friends, ALO) and joined by guitar-wizard Roger Riedlbauer (Mercury Falls, Jolie Holland) and sought after bassist Steve Adams (ALO, Nicki Bluhm and the Gramblers), this intrepid Oakland, CA based trio has been called "avant-rock" and mixes soaring jazz lines, African-inspired rhythms and melodies, and soul sensibilities over the bedrock of a rock and roll rhythm section that transmits a sound wholly unique. Steeped in the perpetual fluidness of improvisation but mindful that stellar song-writing should form its core, MITO's razor-sharp, precision playing is paired with Lipp's achingly truthful lyrics that speak to the human condition.
In the band's less than three years existence, through word of mouth and exposure through numerous local shows and residences, festival plays, and circular touring characteristic of a band on the rise, MITO successfully crowd-sourced their first LP, 2018's "What We Know Is Possible" to the impressive tune of twenty grand, created and sold out their own music festival in its first year (MITOPIA), and most recently proudly added a sophomore to the catalog, "As It Starts To Fade" out December 6th, 2019. The latest collection of songs feature a rich, textured production to fill out its already fully-realized compositions, layered with three part harmonies and adorned with sonic goodies that begs repeated listens. This is only the latest evolution for a band that prioritizes a commitment to growth and leans-in on the deepened trust and mutual respect the band members have been fostering since their formation.
Magic In The Other continues to recruit an engaged and highly energized fanbase, many of whom affectionately boast a show attendance record well into the double digits, and this idiosyncratic trio warmly reciprocates as being one half of a conversation with their audience. In a world where nostalgia dominates, MITO takes their music in the opposite direction, each show unique in the way it lassos the muse, each show infectious through the band's humor and humility, conveying a sound both beautifully undefined and ultimately free.
Avi Vinocur has performed solo with a guitar, mandolin, and banjo on and off for years in between playing in bands. He currently performs with his band Goodnight, Texas all over the US constantly. It's kinda nuts how much they tour. Shit is cray.

Avi spent 3 years as a member of The Stone Foxes singing some of their popular songs like "I Killed Robert Johnson" "Sweep a Road" and "Reno". The Foxes' final work together was a cover of Slim Harpo's "I'm a King Bee" featuring Avi's vocals. It is currently in the 'Jack Daniel's Tennessee Honey' national television commercial and campaign.

Avi loves music and you!!

860 San Pablo Av

Albany, Ca. 94706

East Bay

21+

Venue Information:
Ivy Room
860 San Pablo Av.
Albany, CA, 94706